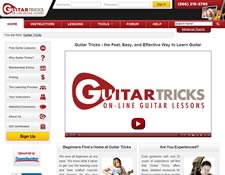 Guitar Tricks
Rating: (Editor's Choice for Cheap Online Video Lessons)
Published By: Guitar Tricks Inc., Multiple Teachers
Website: www.GuitarTricks.com
Pricing: $14.95
For Skill Levels: Beginner-Advanced
Official Website
Having been around for over a decade now, Guitar Tricks is one of the largest online video guitar learning sites on the web. They have 45 different guitar instructors covering many different styles and techniques and have over 8,000 video guitar lessons in their lesson vault. This includes lessons on how to play 500 licensed songs from popular artists such as B.B. King, Stevie Ray Vaugh, KISS, and the Beatles.
Many new lessons are added to the site's database each month, and the site's membership base is huge as well. Whether you're new to guitar or a grizzled guitar veteran, the sheer magnitude of guitar styles, genres and skill levels will keep you learning for a long time.
If you want a taste of some of the lessons they have available for their members you can take a look at 24 free lessons available that you can take a look at. For more, you'll have to upgrade your membership.
Screenshots
Here are some actual screenshots from the Guitar Tricks course.
Features
One powerful feature of Guitar Tricks is that almost every video guitar lesson includes supplemental material such as diagrams, exercises, and tablature. They also give you the option to print the lesson material. Their beginner core learning system section also features on-screen notation. Most of their videos also implement multiple hi-def cameras which makes following the action much easier.
One of the cooler features of Guitar Tricks is that they actually allow you download the video lesson to your computer in the standard MP4 video format. Most online video guitar sites don't allow you to do this. This is a huge plus in our opinion as it allows you to watch the lessons independent of an active internet connection.
Guitar Tricks has an active community forum that many of their members regularly contribute to. They have a member-chat room as well, though we didn't find anyone around that wanted to talk to us when we recently visited. Actually, there just wasn't anyone around at that moment... :)
How the site is Organized:
You can view the site's diverse course material by category. They have all major guitar genres represented including, acoustic, alternative, jazz, funk, metal, bluegrass and more. They also have a 'inspired by' series of lessons where they teach music in the style of particular artists. Other categories include chords, exercises, techniques, theory, reference, and beginners. You can also search the site by keyword.
UPDATE: Guitar Tricks recently put together a series of lessons specifically for those who are brand new to guitar. In other words, they hand-picked specific guitar lessons tailor made for beginning guitarists and combined them to make a logical, progressing, step-by-step course out of them.
Bonuses for new Subscribers:
Guitar Tricks is quite generous in the extras they give to their members. They currently offer the following tools for download or online use:
Ultimate Chord Finder
Ultimate Scale Finder
Guitar Tricks Digital Tuner
JamStation (plays high-quality jam tracks)
Ultimate Metronome (read our review for more details)
Note: Guitar Tricks is not a downloadable course, but an affordable subscriber-based website that contains thousands of video guitar lessons. One plus of this learning approach is that you have access to your course from anywhere, can start right away, and don't have to wait for the entire guitar course to download before use.
Support
Guitar Tricks has the usual support options available plus a toll-free phone number you can take advantage of if you have problems with the site.
Their best support feature in our opinion is that you can email your guitar instructors with your comments or questions. There is no guarantee as to when they'll get back to you, but the 1-on-1 support is a nice touch.
Ease of Use
We won't say that Guitar Tricks is the easiest video site to navigate (largely due to it's size), but it does have a ton of handy features. For example, it keeps a history of the lessons you've visited so it's easy to navigate to lessons you recently viewed. You can also bookmark particular lessons you especially like.
Even though you have two resolution options available when viewing video lessons, those on dial-up internet connections will most likely have problems accessing the course material. For such users, we recommend you take a look at our Learn and Master Guitar Review.
Flash is required to view the site's videos on their online site. They have an independent FLV player for Windows PCs so that you can view downloaded videos from the site. An independent FLV player is currently in the works for the Mac however.
Guarantee
Their guarantee includes an excellent 60-day 100% money back guarantee, which is more than enough time to evaluate their site. With an offer like that, it's definitely worth your time to check them out.
Price
At $14.95/mo. Guitar Tricks has one of the lowest price for online video guitar lessons that we've seen.
Guitar tricks has a wide range of payment options. They accept all major credit cards, paypal payments, and check or money orders.
Conclusion
Guitar Tricks is a incredibly affordable online video guitar lessons site. It is also one of the largest, if not THE largest out there. They have a huge variety of lessons available so you will be certain to find whatever you're looking for. We recommend them highly!
Official Website
More Guitar Courses