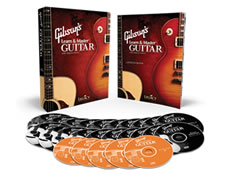 If you are looking for the best DVD guitar course that money can buy, your search may be officially over. Gibson Learn and Master Guitar arrives on the scene as the most comprehensive video course that has ever been introduced to the market to date. Though what else would you expect when Gibson Guitars ® teams up with a leading online education company, Legacy Learning Systems, whose DVD courses are highly regarded for their excellent quality.
As I went through this DVD course, it felt as if I had my own personal guitar instructor... but without the $50/hour bill and scheduling hassles. True, this course costs a little bit more than most of the other guitar lessons out there, but it's well worth the investment (and still only amounts to a fraction of what private lessons cost).
Learn and Master Guitar can take someone who doesn't know the first thing about the guitar or music for that matter, and turn them into excellent guitarists. The course covers everything you'd expect it to such as reading music and tablature, chords, strumming, fingering, picking, lead guitar soloing, theory, sliding, tapping, ear training and so much more!
Coupons

Learn and Master Guitar Sale
Sale Details: Check out Learn & Master's current promotion, where they are offering $100 off their award-winning guitar course for the duration of the sale!
Screenshots
Here are a few actual screenshots from v1 of the Learn and Master Guitar DVD course.
Features
Learn and Master Guitar is available only as a shipped DVD course; not as a download. Video and course material production quality is the highest that we've ever seen for guitar learning instruction.
Learn and Master Guitar was developed by Steve Krenz and Legacy Learning Systems based out of Nashville, Tennessee. Steve Krenz is an amazing instructor and has a very warm and friendly teaching style. Steve also touts an impressive resumé. He's a professional recording artist, guitar teacher, holds a degree in music, and tours the globe teaching music and speaking at workshops.
The Gibson Learn and Master Guitar course comes with a whopping 25 training disks, and a 107 page accompaniment lesson book. 20 of the disks are DVDs, which have 2 teaching sessions apiece. The other 5 disks are Jam Along CDs that contain full band accompaniment on all the songs and audio presented in the DVDs. They are all professionally mastered and composed. One really cool feature they added to the jam-along CDs is that they recorded the guitar in the left channel, so you can turn it down and go solo with the band if you want just by adjusting the balance in your speakers.
Here are some of things that you'll be learning with the Learn and Master Guitar course: How to read notes and tablature, tuning by ear and with electric tuners, how to read chord blocks, open position chords, barre chords, strumming Techniques, fingerstyle picking, pentatonic scales, advanced chords, blues and rock licks, ear Training... and the list goes on. It's worth saying again that the quality of this material is unmatched by all the cheaper guitar courses you'll find out there.
Legacy Learning Systems released a new homeschool edition of Learn and Master Guitar, which contains everything the extended edition has, but also includes a teacher guide, and a 2 DVD teacher's resource set, and a two-year outline for students to follow. This is perfect for homeschoolers or just for parents that want to help teach their children to play guitar at home, but don't know the guitar themselves.
Other guitar DVD courses by Legacy Learning Systems:
Guitar Setup by Greg Vorus
Blues Guitar by Steve Krenz
Support
The folks at Learn and Master Guitar have online chat, as well as phone and email support available on their website. We can say that in our experience, their email response times are very good.
In addition, they have a large community site specially designed for their members. On their forums you can pose questions to fellow guitarists or even Steve Krenz himself! Also on the resource site, you'll find supplemental material that didn't make it into the course and a .pdf version of the Learn and Master lessons book.
Ease of Use
The course is well organized and easy to follow. The DVDs have an accompaniment lesson book, which contains all the examples, exercises, and songs you'll be playing. Steve Krenz's teaching style is concise, thorough, and easy to understand.
The Learn and Master Guitar DVDs are not region encoded. They will play on any standard DVD player. All you need is a DVD player with speakers or headphones or a PC or Mac equipped with a DVD drive.
Guarantee
Learn and Master Guitar has a risk-free 60 day money back guarantee. In other words, you have nothing to lose if you want to try it out. (and believe us, you do!)
Price
Some may think this guitar course is a little pricey but we're absolutely certain that if you get it, you'll find that it's worth every penny. This is definitley one of those "You get what you pay for" situations. In our opinion, Learn and Master Guitar is much more effective as well as less costly than private lessons.
Still, If you're the type of person that doesn't want to spend more than $50 for a comprehensive guitar course, you may find that Jamorama or Jamplay's guitar courses are acceptable alternatives.
Learn and Master Guitar accepts both Visa and Mastercard.
Conclusion
If there was only one product recommendation we could make to you, it would have to be Gibson's Learn and Master Guitar. The guitar learning program they have is tremendous, and will give you endless hours of enjoyment as you become a master guitarist.
Official Website
More Guitar Courses
Psssst! If you are wanting to learn the drums, you may be interested in a new DVD learning course put out by the folks at Legacy Learning Systems called Learn and Master Drums - Take a look at our review now! Oh, and here's another review of Gibson's Learn and Master Guitar.