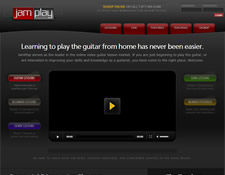 Jamplay
Rating: (Editor's Choice for Online Video Lessons)
Published By: Jamplay Inc., Multiple Teachers
Website: www.Jamplay.com
Pricing: $19.95 and under (coupons available here)
For Skill Levels: Beginner-Advanced, Kids
Official Website
The best in it's category, Jamplay has firmly established itself as one of the top destinations for online video guitar lessons on the internet. Jamplay is an online guitar website that gives you unlimited access to almost 450 hours of high-quality video guitar lessons for an incredibly low price.
With Jamplay, you get access to many different guitar instructors that teach a wide variety of guitar styles, and do so in a very personable and professional manner. The lessons range in difficulty from easy to advanced, so this course works equally well with newbies as well as with experienced guitar players.
The amount of content on the site is simply staggering. We have never seen a guitar course that's put this much great video lessons together in one place. Thankfully, the site's content is extremely well organized so it's never a problem to find whatever video lessons you're looking for. Even with the monstrous lesson library Jamplay already has, they are constantly adding more video guitar lessons to their database. To get a feel for the quality of lessons Jamplay provides, we encourage you to check out a couple of their free video lessons available on their site.
Coupons

Jamplay Coupon (25% Off Code)
Coupon Instructions:This Jamplay coupon takes 25% OFF any one month Jamplay membership. To use, click on the code above and paste (ctrl+v on your keyboard) the code into the appropriate field during checkout. If you want a coupon good for a membership longer than one month, use the link below.
Screenshots
Here are a few actual screenshots from Jamplay.com's website.
Features
Jamplay currently features 450+ hours of video lessons from 42 different guitar instructors. That's a massive amount of material to go through...
To give you an idea of how much content Jamplay offers, consider this... If you were to find private lessons at the reasonable rate of $25/half hour once a week, it would cost you almost $20,000 and take you more than 14 years to complete your training! That doesn't even include the many hours of webcam video lessons Jamplay broadcasts daily! Even if you could find a teacher that would give you 14 years of lessons, and had the money to pay him, no one teacher has the experience needed to teach what Jamplay's 36 teachers can. Jamplay allows you to broaden your music exposure and knowledge and gives you the freedom to learn whatever you feel like learning.
Each lesson is filmed in HD (high definition) with multiple cameras so you can see exactly what the instructor is doing at all times. Within every Jamplay video lesson there's a range of supplemental material available (lesson write-ups, diagrams, exercises, tablature, etc.) that you can view and print if you wish.
Most of the lessons are divided into one of 3 categories:
Phase 1: Beginners
Phase 2: Genre Teaching
Phase 3: Learning Songs
Note that Jamplay is not a downloadable course, but an affordable members-only website that contains many hundreds of video guitar lessons. Having said that, it's nice not to have to download the whole course to your computer before you can actually start using it.
More Jamplay Features:
Constant website updates and fresh new lessons. (You can view their home page to see what video lessons they've recently added)
A massive, well organized guitar chord library.
Easily interact with Jamplay's friendly instructors.
Ability to track of your development with Jamplay's progress reports.
(NEW) Fun extras like archived concerts that some of their Jamplay's instructors have put on & exclusive artist interviews.
(NEW) Exclusive music games that teach note identification, music notation, fretboard memorization, and pitch recognition.
A social community where you can create a personal profile, and meet and make new friends. They have a lively forum, as well as an awesome, live chat interface where you can drop in and talk to fellow students as well as Jamplay staff.
Support
Jamplay has many support options available on their site. They have email support, a rapidly-growing forum and membership community, as well as a very innovative idea: Their Video Q&A Section, where they will take a question that was sent to them from one of their members and turn it into a video lesson. At the time of this review there are around 500 Q&A video guitar lessons.
Another new support option is Jamplay's webcam guitar lessons. For a while now, Jamplay has been broadcasting up to 12 hours of live lessons via webcam daily.
Ease of Use
The folks at Jamplay have really made their website accessible and easy to use. Everything is laid out exceptionally well. The site itself is huge, but is still easy to navigate.
If you are one of the few still using dial-up internet, Jamplay may not be your best option. When viewing the videos you can choose the quality level (Low, Medium, or High), but still it may get too annoying if you have to wait a long time for every lesson. *If you are a dial-up internet user, be sure to check out our Gibson's Learn and Master Guitar Review.
Guarantee
Jamplay offers a full money back guarantee. Therefore, if you buy the course, and then decided that you wanted to learn a different instrument, or your internet speed is too slow, you can get a full refund if you apply within 7 days of purchase.
Price
Jamplay has several payment options to choose from. The longer the subscription length the lower the price per month works out to be. You can pay monthly, ($19.95/month), quarterly (only $12.49/month), as well as yearly (only $9.99/month). You also have the option of upgrading your payment option or canceling at any time.
Jamplay accepts all major credit cards as well as Paypal.
Conclusion
Jamplay is our top choice for online video guitar lessons. Both the quality and quantity of the lesson material is exceptional, their customer support is great and the price is affordable. We recommend that you give them a try and see for yourself!
Official Website
More Guitar Courses