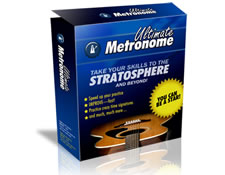 From the Product Website:The Ultimate Metronome is no longer sold separately. You can get a free copy when you buy a membership to GuitarTricks.com.
Even if you become a great guitarist and know every note there is to know on the fretboard, you still may be lacking a crucial ingredient to good guitar playing: Rhythm and timing. Ultimate Metronome seeks to change all that. Ultimate Metronome is a downloadable digital metronome that gives you advanced features that traditional metronomes can rarely provide (at least the inexpensive ones).
Practice Tip: Even if you don't pick the Ultimate Metronome up, make sure that you begin using a metronome or time-keeping device in your practice time. It will make it easier to track how you're progressing, build good rhythm patterns and allow you to challenge yourself to pick up your pace.
Features
Priced at just under thirty dollars, Ultimate Metronome isn't exactly a steal of a deal. However, later in the review we have information that let's you pick up this software for free (sans the bonuses however)!
One of it's features include being able to accentuate the beat of your choosing. For example, you could give every 3rd beat a different tone to separate it from the others.
Included with Ultimate Metronome are 7 great-sounding beat sounds to choose from: High Hat, Snare Drum 1, Snare Drum 2, Side Stick, Wood Block, Cowbell, and Bass Drum.
Another really cool feature of the Ultimate Metronome that you can't get with traditional metronomes or even other digital metronomes for that matter is it's "advanced" or "Speed Drill" mode. It allows you to increase the beats per minute after each specified time interval. For example, if you wanted to increase the BPM by 5 every 35 or 60 seconds, you can do that with Ultimate Metronome.
Bonuses Included with the Ultimate Metronome Software:
Learn to Read Music - A 9-page ebook that explains the basics of reading music notation.

Learn to Play the Classical Guitar - This 65 page ebook is a complete method book on how to read music on the guitar, as well as how to play Classical Guitar.

Improving Your Piano Playing - An ebook covering scale exercises, mixed rhythm drills, crossing drills, swing, blues and ragtime. It's worth noting that this tool can work well for playing the piano as well guitar. 12 pages.

Improving Your Guitar Playing - A 15 page ebook that includes string skipping, sweep picking, pedal point and alternate voice exercises.

Easy Chord - A Windows program you can use to look up guitar chords. Easy to use and great for reference.

Scale Tool - Another Windows program that you can use to look up scales and arpeggios on the guitar and the piano or keyboard.
Warranty
Ultimate Metronome will cover your purchase with their full 60-day money-back guarantee which is standard for most downloadable products.
Price
If you get a membership with Guitar Tricks (see our Guitar Tricks Review), you will be given a copy of Ultimate Metronome as a bonus for signing up (only $14.95 for one month). If you are already interested in learning guitar, this is makes for a very attractive option!
Conclusion
If you want a computer-based metronome with solid features, Ultimate Metronome makes for a great (if not expensive) choice, and definitely has the potential to significantly improve your guitar speed, rhythm and timing. The bonus software that's included make for a decent additions as well.
Official Website
More Guitar Courses