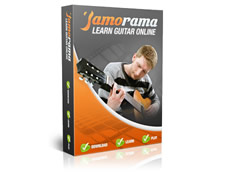 Jamorama
Rating: (Editor's Choice for Downloadable Guitar Lessons)
Published By: Rock Star Recipes
Website: www.Jamorama.com
Pricing: $49.95
For Skill Levels: Beginner-Intermediate, Kids
Official Website
One of the most popular guitar lesson software available online, Jamorama has long been a great way to learn the guitar on your own at a reasonable price. Jamorama takes it slow and doesn't assume you have any prior knowledgeable about playing guitar, and is able to take you from a complete beginner to a competent intermediate guitar player.
Jamorama is currently available in two flavors. Jamorama Standard (which we review here) and Jamorama Deluxe. The main differences between the standard and deluxe versions are as follows: The standard version contains all the basic guitar lessons that focus on the essentials like strumming patterns, chords and beginner music theory. The deluxe package contains everything that the standard does, but adds what used to be their other guitar course, "Jamorama Lead Guitar" to the package. It's worth mentioning that you can always choose to upgrade your standard version to the deluxe version at a later time. The option to order the physical printed version of Jamorama seems to have been removed from their website.
The team over at Jamorama did a good job of creating an entry-level guitar learning product that's easy to use, contains thorough instruction, and is fun to use at the same time.
Screenshots
Here are a few actual screen captures from the Jamorama course.
Features
Included in the Jamorama course are 2 huge downloadable guitar learning books which break down the course into separate lessons (15 lessons in book 1# and 26 lessons in book #2). The lessons are easy to get into and aren't difficult at all to understand.
There's also great video and audio content that goes along with the course books. There are almost 150 video examples for you to watch. The jam tracks that are included are very high quality. You can choose to play with the accompaniment track if you are just starting to learn the song, or you can mute the guitar part of the track and take on the role of lead guitar yourself when you think you're ready.
Jamorama did a good job of adding extra bonuses that you will find very useful. Here are some of the software bonuses included in the package:
Guitar Tuner Pro - One of the best digital tuners we've come across so far.
Guitar Ear It! - An great tool you can use to develop your ear for chords.
Jayde Musica Pro - A creative game where you can learn to read and memorize notes. You can also use to recognize notes by ear.
Jamorama Metronome - A digital metronome that actually sounds like a metronome.
Free 30-day membership to SongPond.com (details below)
Recently, Jamorama started giving away a free 30-day membership to their new website, Song Pond (SongPond.com), for customers of Jamorama Deluxe. Song Pond is membership site that teaches guitarists and pianists how to play their favorite songs. All lessons taught on Song Pond are rated from "Very Easy" to "Very Hard" to make it simple to find appropriate lessons for your skill level.
Keep in mind that you don't have to use the 30-day trial right away. In fact, you probably will want to wait until you've progressed through the course for a while and developed some of the skills you will need to take advantage of the song lessons.
When you consider that when purchased separately, a SongPond.com membership costs from $7.95 to $15.95 per month, this is a valuable extra to have.
Support
Jamorama has online and email support options available. In our tests, we contacted them several times and they got back to us within 48 hours each time. Like many online courses are starting to do these days, Jamorama has a support forum available for their members.
Ease of Use
Jamorama's material is easy to read and to follow along with as there are many illustrations and examples provided as you progress. It's worth noting that quite recently, Jamorama upgraded their download format to Jamorama Maestro 2.03. This new software makes the course much easier to download and work with as you don't have to go looking through all the files and folders you downloaded to find the particular audio or video files that go with your current lesson. Everything you need for each lesson is now accessible from within the software. You also only have to download a single file from their member's area to get started. This is a big improvement for the course and a huge time saver.
Jamorama has a software for both the PC and the Mac.
Guarantee
Jamorama has a risk-free, 60 day money-back guarantee in place. If you don't like Jamorama for any reason, you can send them an email and get a prompt refund.
Price
Jamorama's price is equal to the cost of a couple private half-hour guitar lessons, but you'll probably come out much farther ahead with Jamorama's course material and software. Jamorama is great value for the money.
Conclusion
Jamorama is the perfect choice for a beginner-intermediate guitar player who wants a solid guitar course he can complete from home without spending a whole whack of money. When it comes to software-based guitar lessons, this well-produced course is in a class by itself. Recommended.
Official Website
More Guitar Courses