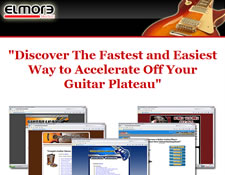 Guitar Tips Speed Learning System
Rating:
Published By: Elmore Music, Chris Elmore
Website: www.Elmore-Music.com
Pricing:

$147

(availability unknown)
For Skill Levels: Beginner-Intermediate
Official Website
Important Update: The Speed Learning Guitar System is no longer available as a package as this review states. Each mini-course is now only available as separate modules. Beginning guitarists may want to look at their inexpensive Guitar Tips module which is one of the better modules we reviewed.
Elmore Music is an Australian music company that specializes in teaching guitar through the various downloadable courses they've designed.
Elmore Music's flagship product's name is officially called the Ultimate Speed Learning Guitar System which incorporates all of their individual courses into one huge bundle. This is actually a fairly comprehensive e-course that can take you right from a raw beginner who needn't know anything about guitar, to a relatively competent intermediate player. Though it works out slightly cheaper to get the the package deal they offer on their site, you may find it overkill if you are just looking to starting to learn guitar. If that's the case, Guitar Tips is the single mini-course to take a look at. If you have been playing the guitar for a few months, take a look at their full curriculum to decide if it's for you or not.
Features
List of modules available with the Speed Learning Guitar System:
Guitar Tips
Guitar Back Tracks
Guitar Leads & Licks
Song Writing Secrets
Guitar Theory
Before we get into the features of the the Speed Learning System, we should mention a few issues we had with the course: Though the majority of the instructional videos included are of exceptional quality, there aren't near as many as we would have liked. The course does have illustrations for the left-handed guitar player as well as the right-handed guitar player, but all they do is invert the images to illustrate this. The lessons are usually adequate in explaining concepts, but not exhaustive by any means. The audio is embedded right into the lessons which is handy, but with the Guitar Backing Tracks course we experienced some delayed response issues.
After purchasing the Elmore Guitar Tips you'll be given access to an online member's area. You have the option to view lessons online or if you prefer, you can download each course in a zipped file to your computer. Take note that they can take a while to download. Between all 5 courses the total download size is approx. 850MB. This may put this course out of reach of practicality for those on dial-up connections.
Each course is broken down into different sections. You can use the ever-present menu bar for quick navigation for previous and next lessons. Here is an example of how their lessons are organized for the Guitar Tips course.
Let's Get Started: (15 lessons)
Includes: Learn the key elements of the guitar, choosing the guitar that suits you best, how to properly hold the guitar, hot to get the maximum life out of your guitar strings, various methods of tuning your guitar, etc.
Getting Into Chords: (11 lessons)
Includes: Learn the 7 major and minor chords, learn about different power chords, barre chords, and how to troubleshoot common chord issues, etc.
Practice Strumming Chords: (6 lessons)
Includes: How to strum using different patterns and techniques. How to swap between chords quickly and easily, etc.
Getting Into Leads And Scales: (9 lessons)
Includes: Key elements of scales, 5 major pentatonic scales, 5 major diatonic scales, how to play a practice song with a basic lead guitar part, etc.
Exploring Further Lead Techniques: (9 lessons)
Includes: Learning some Hammer-on's and pull offs using single and double notes, string bending and sliding techniques, pick sliding tricks, a few cool lead tricks, etc.
Hot Extras (6 lessons)
Contains several misc. mini-lessons including: How to make your guitar sound like a violin, guitar special effects and sound samples, harmonics, and recommended quick tab software.
Popular Songs To Learn And Play (20 lessons)
We liked that they included some great classic songs for you to practice and play along with. Here are a few that are included: "Time Of Your Life" by Greenday, "Put Your Lights On" by Santana, "She Will Be Loved" by Maroon 5, and "Every Breath" by Sting. They do simply the music a bit, but it still gives you a good start.
Please take note that the above examples are from only the Guitar Tips module, only 1 of the 5 courses included in the Speed Learning Guitar System.
Support
Elmore Music has several different ways of reaching them including phone, fax, and email support.
Ease of Use
A word of wisdom: With 850mb of content, the Speed Learning Guitar System is definitely not for those with dial up internet connections. If you are a dial-up user, definitely check out our #1 choice for DVD guitar lessons, Learn and Master Guitar. For those with hi-speed internet connections though, we recommend that you download the entire course to your hard drive, since then you won't always have an active internet connection.
Because Elmore Music's lessons are in HTML, and the videos are in Quicktime format, Speed Learning Guitar is compatible with PCs or a Macs, which we appreciated.
Guarantee
Speed Learning Guitar comes with the security of a solid 8 week money-back guarantee.
Price
For everything that is packed into this course, the price of the Speed Learn Guitar System is definitely a decent choice. That being said, if you have the money on hand for Speed Learn Guitar, you may prefer to go with a professionally produced DVD guitar course like Learn and Master Guitar. Notwithstanding, the price for this course definitely is reasonable, especially when you consider the cost of private lessons...
Conclusion
If you are looking for a massive downloadable guitar course, you've found one of the best. Another similar hi-end downloadable guitar course is Jamorama. In our opinion, it's pretty much a toss-up between Speed Learning and Jamorama. However, if we had to pick one over the other, we would probably go with Jamorama, due to it's cheaper price.
Official Website
More Guitar Courses