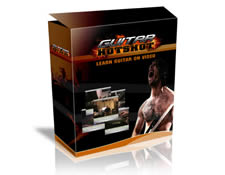 Guitar Hotshot
Rating:
Published By: Jamie Lewis (self published)
Website: www.GuitarHotshot.com
Pricing: $29.95
For Skill Levels: N/A
Official Website
Guitar Hotshot is a fairly new guitar learning site that was just launched several months ago and is taught by the Jamie Lewis, the same guitar teacher that was involved with the atrociously bad music course Music Master Pro. Jamie Lewis of Guitar Hotshot appears to be an online alias of Jay Dynasty from the Music Master Pro website. (or vice versa)
Sadly, Guitar Hotshot seems to be a dismal attempt by Jamie Lewis to create a successor for the failed Music Master Pro course. Unfortunately, you just have to learn to recognize these sites for what they are... a waste of time and money. There are plenty of good sites to learn guitar with on the internet these days, but this is not one of them.
Features
Guitar Hotshot gives of a lot of hype, but regrettably doesn't deliver as promised on their sales page. The page's first two sentences loudly exclaim:
"FORGET ABOUT MUSIC SCHOOL!
Download 40 hours of Intensive Guitar lessons on video..."
After getting into the member's area I was like... huh? Where's all the great video lessons? After poking around for a while I was able to scrounge up approximately 2 hours worth of guitar video lessons in the member's area. The site promises to regularly update it's lessons. We bough the course years ago, and that hasn't happened yet. The site says that there is an accompanying chord charts and other supplemental guitar teaching material with EACH guitar video lesson. We didn't find a single supplemental aid. The list of false promises goes on and on... but I think you get the point.
The course videos are of amateur quality and the lighting is very poor. The resolution is also really bad, like the videos were shot using a 1 megapixel web-cam. It goes without saying that features that most good guitar courses have (like split camera view and on-screen notation) aren't utilized in this course. It's near impossible to follow along with what the instructor is doing. Jamie Lewis doesn't teach in very concise manner, and there doesn't seem to be any rhyme or reason to the numerical sequence of the lessons.
The actual video lessons touch on various topics including the following: Finger picking and tapping, using a metronome, palming, tuning for beginners, how to use various hardware setups, practice rhythm, among a few others.
Guitar Hotshot currently contains the following:
32 Guitar Instruction Videos in Quicktime format
1 .pdf on Music Theory
1 Guitar tablature chart
3 piano scales and chord diagrams
24 Piano and Violin Instruction Videos
What likely happened is that because of well-deserved bad press, Music Master Pro ran eventually ran out of potential customers. This explains why Jamie Lewis has created a new rash of music learning sites. (Some of his similar music sites are Piano Coach Pro, and Violin Master Pro which use some of the same videos as Music Master Pro does).
On a more positive note, a Guitar Hotshot membership comes with a free login to Beats365.com (also owned by Jamie Lewis), which allows you download a fair number of jam tracks. The member's area of Guitar Hotshot is relatively clean, and there are more videos that teach guitar than was available with Music Master Pro. Like MMP, they do throw in an extra measure of instructional videos for those who want to learn violin as well as piano under their "bonus videos" section. Understandably, most people out there will probably find this extra "bonus" rather useless.
Support
Guitar Hotshot has a single email address available for you to reach if you want to talk to someone about the course or run into any issues. Don't hold your breath for a reply however...
Ease of Use
Guitar Hotshot training videos are in Quicktime's video format, which and is therefore compatible with both PCs and Macs.
It would have been nice if Guitar Hotshot had allowed their paying customers the option to download all the instructional videos to their computer so they can view them at their leisure. Amazingly, you'll have to pay another $19.95 for that privilege.
Guarantee
Comes with a 2-month guarantee, the standard for most downloadable learning products.
Price
Guitar Hotshots is relatively cheap, at only $30. However, it speaks to the quality of the course when we say that it just *might* be worth one tenth of what you're paying for.
Conclusion
In simple terms, pass on this one. While some of the videos can be helpful (in that they're not harmful) for brand new guitarists, the dishonesty and unethical practices of Guitar Hotshot combine to give it two thumbs down. If you're left still wanting some decent computer-based guitar lessons, check out our review of Jamorama, one of our editor's choices.
Official Website
More Guitar Courses